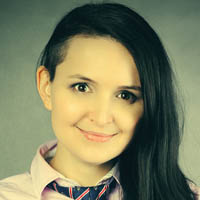 Bianka Siwińska
Executive Director and Head of Research, Perspektywy Education Foundation, Poland
PhD in political science, journalist, researcher and initiator of social campaigns. Her passion is supporting girls and young women in STEM (Science, Technology, Engineering, Mathematics). Editor-in-chief of "Perspektywy" magazine, correspondent for "University World News", coordinator of "Study in Poland" - program of  the Conference of Polish Rectors and Perspektywy Education Foundation. Expert of the World Bank in higher education and gender in Central Asia and for European Commission. Initiator of the campaign "Girls as Engineers!" and projects "Lean in STEM", "Girls go start-up! Academy", "New technologies for girls". Receipient of the  "Businesswoman of the year 2015".
Bianka Siwinska studied at the Warsaw University, at Humboldt Universität and at Freie Universität in Berlin. She conducted research at Columbia University in New York and in NIFU-STEP in Oslo, Norway. Scholar of the Friedrich Eber Stiftung, Norway Scholarship Fund and US Departament of State.
Author and editor of the books on internationalization: "Education goes global - Strategies of internationalisation of HE", "University beyond boarders. Internationalisation of HE in Poland and in Germany", "Time for Internationalisation. Challenges for Polish Universities". Author of reports on women in science and technology.